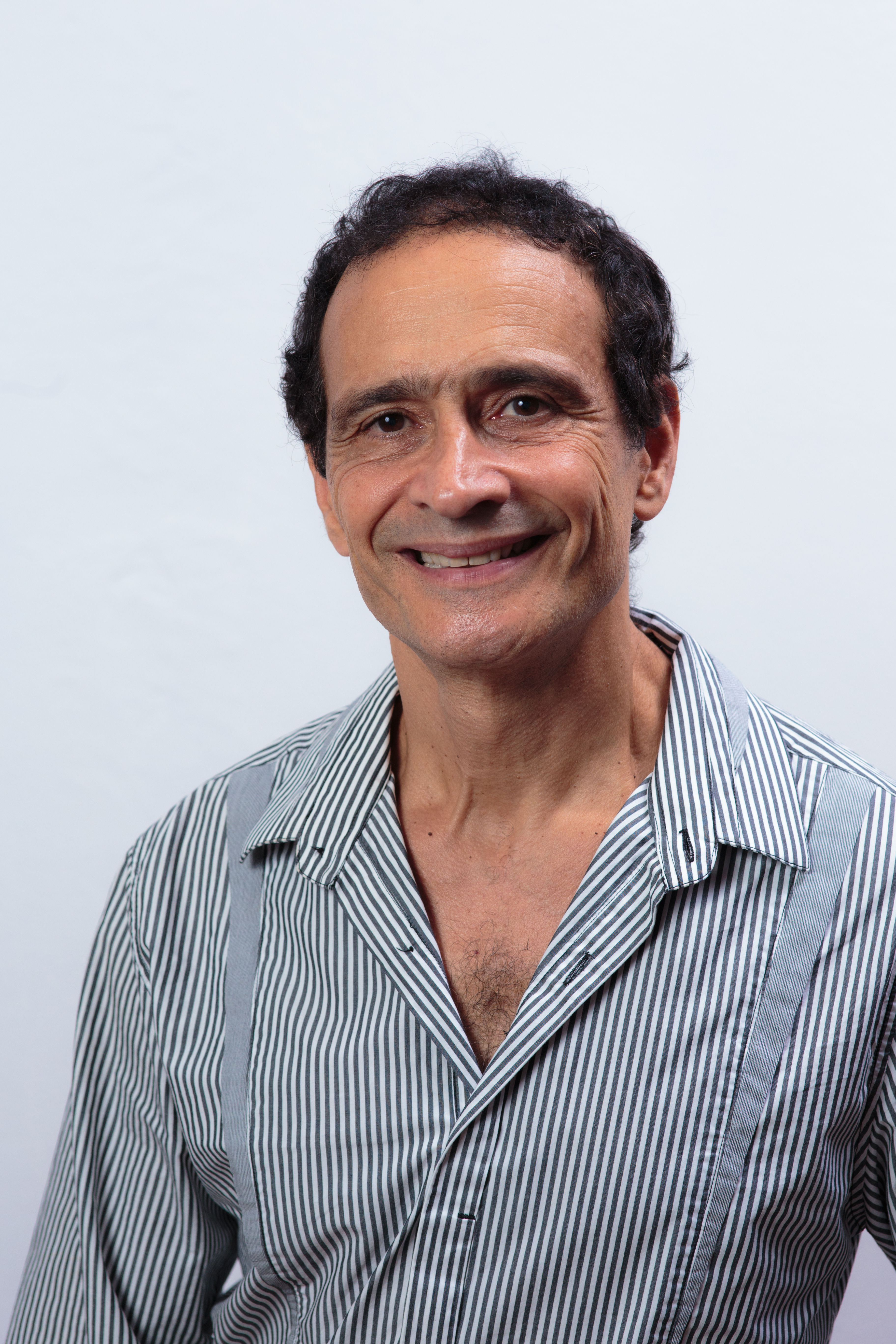 Tarcisio holds the auspicious honour of being the first person to ever offer Brazilian dance lessons in Australia.
Before founding Rio Rhythmics Latin Dance Academy in 1994, Tarcisio had a 20 year career as a dance teacher, performer, choreographer and percussionist in Brazil.
A dance graduate of the University of Physical Education in Goiânia, Brazil, Tarcisio has studied many styles of dance, including ballet, jazz, tap, contemporary and modern dance.
Tarcisio worked for many years with Glacy Antunes de Oliveira (President of Associacao Musica and Cena, Brazil) and Delmari Rossi, Director of MVSIKA Centro de Estudos, one of the most important music, dance and theatre school's in Brazil. MVSIKA became a model school for many others all over the country.
Tarcisio received a grant from the Goias State Government to study dance at Guaira Theater (one of the most renowned ballet companies in Brazil), where he had the great privilege of performing. He was awarded this grant in order to use his study with Guaira Theatre to set up the dance school and company for Goiania Theatre for which he was the founding Director & Principle Instructor where he trained great dancers, some who went on to perform with Maurice Bejart and The Royal London Ballet and others who went on to open their own dance school's throughout Brazil.
During his dance carreer in Brazil Tarcisio also performed at the Teatro Municipal do Rio de Janeiro and the famous Teatro Municipal de Manaus under the direction of Gisele Santoro. He perfomed under the direction of Rodrigo Pederneiras, a famous Brazilian Choreographer of Grupo Corpo in Belo Horizonte, Brazil and performed alongside important people within the Brazilian dance scene such as Gisela Vaz, Tassiana Stacciarini and Rosana Tavares Cardoso, all of whom are now directors of well known academies.
With all this under his belt Tarcisio transformed his love of social dance (Danca de Salao) into a career when he came to Australia. In order to research various styles and ways of doing each dance styles he took study trips where he spent countless hours in Rio de Janeiro, Brazil with renowned instructors such as Jaime Aroxa, instructors from the Escola Jaime Aroxa such as Armando, Cristovao, Fabiano, Paulinha, Adilio Porto, Renata Pecanha, Lidio Freitas, as well as Marquinhos da Copacabana, Jimmy de Oliveira, Carlinhos de Jesus and many more.
In Latin styles, Tarcisio's repertoire extends from Forró to Samba no Pé, Samba de Gafieira, Zouk Lambada, Tango, Salsa, Merengue, and Bachata,
In addition to his extensive dance background, Tarcisio is a Master of Capoeira, trained by the revered Mestre Bimba, who was the creator of Capoeira Regional. In the 1970s Tarcisio was one of the the driving force behind the re-emergence of Capoeira as a traditional art form, after it had been outlawed for many years. Tarcisio was the first capoeira instructo at the Univerties on the State of Goias.
Tarcisio brought this style of capoeira with him to Australia and it is a passion he has passed on to his son Claudio Teatini-Climaco (Caracol) director and Contra-mestre of Xango Capoeira in Brisbane.
His academic approach to teaching Latin dance was revolutionary when at the time the only other formal partner dance training in Brisbane was Ballroom. Through his structured curriculum many students progressed to become teachers, with several eventually opening studios of their own. Brisbane began to earn a reputation for the widest range of Latin styles available, and certainly became the centre for Brazilian dance in the Asia Pacific region.
Rio Rhythmics has introduced Brisbane to the talents of Australian based dancers such as Oliver Pineda, Gianne Abbott, Silvi Milans and from Brazil; Kadu Pires and Larissa Thayane.
In 2009 Tarcisio; as artistic director of Brazil Central Zouk Lambada congress, was the first to introduce Australia to Brazilian artists such as Renata Peçanha and Jorge Peres, Adillio Porto, Alex de Carvalho and Daniela Wergles, Monique Marculano and Lidio Freites – to name a few.
He has spent countless hours attending Tango classes and Milongas in Buenos Aires, some of his inpirational role models who he has studied with are Gustavo Naveira, Fabian Sales, Danna and Pablo, Mora Godoy, Osvaldo Sotto, Nick and Diana amongst others.
Tarcisio learnet Salsa in Cuba and went to Colombia to research the Salsa in Cali and Bogota also.
He continues to develop and extend his knowledge of dance and returns to his homeland every year running a Brazilian Carnaval tour.
"I would like to permeate Australian culture so completely with the rhythms and energies at the core of Latin dance so they will have a natural ability to express themselves through movement."
Career Highlights
– Brisbane 2001 Goodwill Games' Creative Team Latin Item Director
– ACMAC – from 30th june 1999 to June 2001Australia Council's Multicultural Advisory Committee Representative http://2014.australiacouncil.gov.au/__data/assets/pdf_file/0020/32087/02_overview.pdf
– Australia Council of the Arts' Dance Funds QLD Committee Member from 1998 to 2001
http://2014.australiacouncil.gov.au/__data/assets/pdf_file/0018/32067/02_corporate_overview.pdf
http://2014.australiacouncil.gov.au/__data/assets/pdf_file/0016/32065/23_annual_report_2000-01.pdf
– Part of the Australian Dance Council's Interim Competency Standards Project – Reference Group Member – 1997 – Published and updated 2011
– 'The Brazilian Suite' 99 – QUT – Choreographer
– 'Choregraphed invited by the Queensland Orchestra the Latin Rhumba' performed at the City Hall
– Latin Fiesta at South Bank Piazza – taught and performed to over 2000 people (2004)
– Brazilian Consulate – Was granted with a plaque in recognition of introducing Brazilian dance to Australia and ongoing efforts to champion Brazilian culture (2009)
– Sydney Salsa Congress – Trophy for outstanding Contribution to the Latin Dance Industry (2010)
– Artistic Director and founder of Brazil Central Zouk Lambada Congress (2009 – 2013).
Get Insider Updates
Never Miss a Beat! Stay connected and up to date by signing up for our monthly Latin Dance News, Party Updates & Exclusive Promos.
Start Your Dance Journey
For those new to Latin dance or first time dancers you can start dancing today by claiming a FREE Intro to Latin Dance Class today.
Term & Conditions
For information about our policies on payment, cancelation, make up classes, take the time to read through our Terms & Conditions.