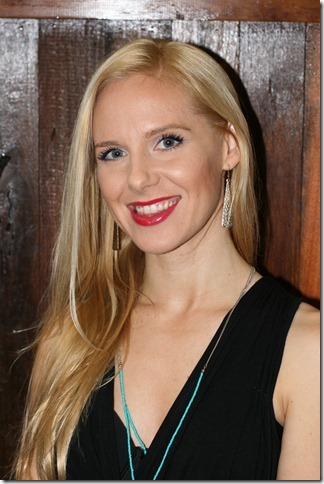 Rebekah describes herself as absolutely passionate about Latin dancing. Not just about dancing itself but also the opportunity to share the joy through teaching and performing.
Growing up she had a fascination for Latin culture; for the music, dancing and joyful community spirit. She grew up to the sounds of Brazilian music with her father playing guitar; Bossa Nova was his favourite! Rebekah did gymnastics in her early years, and went on to do jazz & contemporary dance in high school; throughout this time also starting to play Spanish and Classical guitar.
She was accepted by audition to one of the foremost music schools in Australia; the Sydney Conservatorium of Music (Sydney University) moving cities to study Classical Guitar, with a large focus on Brazilian music. Upon graduating from the Bachelor of Music, she moved to Europe for a year where she saw Salsa and Brazilian dancers, intriguing her about another level of expression within the music. But, she was too shy to try Salsa as all the dancers seemed so confident!
Moving back to Australia at the end of 2007, she saw Rio Rhythmics' dancers at the Brazilian Band 'Olodum's' show at QPAC. She immediately enrolled in all the Latin style classes they offered. During this time, Rebekah also continued to teach music & guitar, and continued a second degree at QUT and then Griffith's Queensland College of Art in Architecture and Interior Design, graduating with a Bachelor of Design.
During this time, Rebekah was also invited to Rio Rhythmics Samba Team, as well as being part of the Axé team, in which her love of performing flourished. She also trained with Gianne Abbott, and was invited to perform with Gianne's company Sambaki at various events.
Rebekah's journey as an instructor started at Groove Brazil Latin Dance Academy in 2010, training first as a teacher and continuing through to creating choreographies and collaborating on curriculum and teacher training. In 2012, Rebekah was invited to join Sambaliscious as an instructor and performer, training further in Samba, conducting courses and workshops as well as performing in various events and festivals.
At the start of 2014, Rebekah decided to expand her dance training through becoming a professional Ballroom & Latin dance instructor. Undertaking intensive training, she was accepted as an instructor at one of the longest running Ballroom studios in Brisbane; Dancecorp Dance Studios, having the opportunity to teach many students social dancing as well as countless Bridal couples learning to dance for their wedding, also choreographing for student performances.
Rebekah has worked in Architecture and Interior Design studios, also freelancing as a professional interior designer, whilst always continuing to dance, teach and perform in the evenings, enabling a great mix of creative output! She has travelled twice to South America, staying in Brazil for over a month each time while honing her Portuguese language skills as well as her dancing and music.
Some of Rebekah's dancing highlights over recent years have been:
Performing at a large range of local and national festivals, events and corporate functions such as the Sydney Latin festival, Woodford Folk Festival, QPAC forecourt, Tangalooma Resort, Queen Street Mall, The Brisbane Jazz Club, Australia Zoo, Griffith University and Brisbane City Hall.
Parading at Rio Carnaval in 2010 with Rio Rhythmics
Being invited to choreograph and lead a group of Latin dancers, appearing on Channel 9's 'Today' show in November 2014 at Australia Zoo.
Being invited to choreograph and lead a group of dancers for the Lord Mayors multicultural Christmas Celebration in December 2014 in the Latin/Brazilian section. This was performed in front of thousands across 10 shows at Brisbane City Hall.
Get Insider Updates
Never Miss a Beat! Stay connected and up to date by signing up for our monthly Latin Dance News, Party Updates & Exclusive Promos.
Start Your Dance Journey
For those new to Latin dance or first time dancers you can start dancing today by claiming a FREE Intro to Latin Dance Class today.
Term & Conditions
For information about our policies on payment, cancelation, make up classes, take the time to read through our Terms & Conditions.