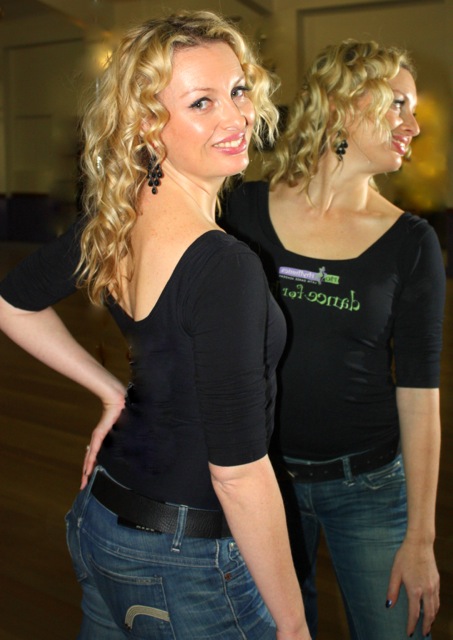 Dancing; jazz and ballet, acting and acrobatics were central to Chantel's childhood. Her love of performance lead her to pursue drama at High School, which she completed with High Distinction and won an Outstanding Achievement Excellence award.
It was no wonder that In 2002, Chantel's Aunt suggested she start taking beginner classes at Rio Rhythmics. It wasn't long before Latin Dance became a passion and she started exploring all styles from Rueda, Tango and even Latin Fitness.
In 2003 Chantel was invited to the Rio Rhythmics Performance Team and by 2004 she was performing at the major Brisbane event "Latin Fiesta" at Suncorp Piazza, to an audience of 3000.
Teaching was the next step! In February 2005 Chantel started her teaching career on a casual basis and progressed to a full time teaching and administrative role by May of that year. Co-ordinating the Student Supporter program was one of her responsibilities – something she excelled at, creating memorable celebrations with themes such as Dirty Dancing, Grease and Chicago to name a few.
A pivotal moment came when Chantel took over as Curriculum Co-ordinator in 2007 and started working closely with Tarcisio Teatini-Climaco to develop and maintain the program in all dance styles. As this position evolved Chantel also became responsible for Teacher training and eventually was appointed Dance Co-ordinator in 2009; a diverse role which she maintained until she went on maternity leave in 2013.
Throughout these developing years as a teacher, Chantel achieved many great things as a performer. In more than 8 years as a performers she achieved many firsts, such as being part of the first Rio Rhythmics team to go to Sydney Salsa Congress in 2008, dancing Samba de Gafieira (an unknown style in Sydney at the time) and later introducing Lambada 3.
Creating choreographies is also part of Chantel's repertoire. She has co-created work with numerous teachers, but mostly with Tarcisio Teatini-Climaco and Kadu Pires. She has worked on choreographies for performance and student teams, for events such as the Grand Latin Ball, White Magic, Celebration of Achievement, Sydney Latin Festival, Melbourne Latin Festival and Brazil Central.
Outside of Rio Rhythmics, Chantel was an exceptional role model, MCing various public performances in Queen St Mall and representing the Rio Rhythmics' philosophy at dance congresses in Australia and New Zealand. She was honoured to be invited to teach alongside dance master Adilio Porto and international stars such as Carlos da Silva and Rafael Oliveira.
With a dance journey at Rio Rhythmics that spans 13 years, Chantel has had the opportunity to train with an enormous range of instructors including Kadu Pires and Larissa Thayanne, Renata Peçanha and Jorge Peres, Leo and Becky Neves, Carlos and Fernanda da Silva, Adilio Porto, Lidio Freites and Monique Marculano, Alex de Carvalho and Daniela Wergles and Jimmy de Oliveira.
In 2015 we are thrilled to be welcoming Chantel back from maternity leave, to re-join our teaching team where she will be focusing on our Salsa and Bachata programs.
Get Insider Updates
Never Miss a Beat! Stay connected and up to date by signing up for our monthly Latin Dance News, Party Updates & Exclusive Promos.
Start Your Dance Journey
For those new to Latin dance or first time dancers you can start dancing today by claiming a FREE Intro to Latin Dance Class today.
Term & Conditions
For information about our policies on payment, cancelation, make up classes, take the time to read through our Terms & Conditions.