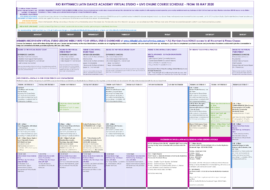 Biggest thanks to all our members for sharing your experience and feedback with our new Virtual Studio so we can bring you more of what you're loving and wanting. Starting 18 May you can join us for 22 recorded lessons in our Virtual Studio, all with a weekly Live lesson to work on technique and connect with your classmates and instructors. Plus, enjoy Daily Movement and Specialty Courses delivered Live via Zoom.
Check out our current Online Schedule now.
Virtual Studio Schedule
All Online Memberships include access to all Daily Movement Courses and when your Membership is One Day, Two Day Unlimited or Unlimited you can include Specialty Courses as well.
Come join us to stay dancing and connected through COVID-19.
Follow us on Facebook and Instagram to stay up to date with the latest news, or subscribe for dancing news.
Let's dance!
Related posts