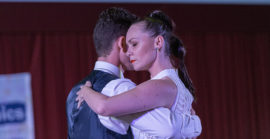 Term 3 commences from July 2nd 2018 and we are officially launching our Winter Wellness & Warmth Term 3 and declaring enrolments now open!
Join us in July for Term 3 & our Winter Program of dance courses, workshops and social events in West End Brisbane.
Whether just taking your first inspired steps onto our beautiful dance floors & experiencing partner dance and the Rio Rhythmics welcoming and enriching community for the first time or as one of our more seasoned dance students there are courses to suit.
Winter never seemed so bright!
PS. Join us for our celebrations and festivas on June 16 to see out Term 2, launch Term 3 & all in our Escape To Brazil theme as part of our 2019 Brazil Adventure, Culture & Carnaval Tour.
Related posts