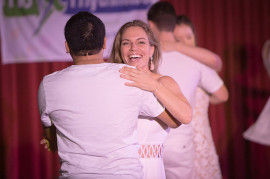 Been meaning to give partner dance a whirl? Looking for something different?
Our second set of Starter Courses are now live and open for bookings and we'd love to have you with us!
Our starter courses are perfect for those new to dance and partner dancing. They run from late July / early August through to September.
We are now welcoming bookings for Latin Dance Starter, and Cuban Salsa Starter.
You can join us for Latin Dance Starter at Tuesdays 6.40pm, Wednesdays 5.40pm, Thursdays 5.40pm or Saturdays at 3.30pm. Pick which suits you best and prepare for a fun and rewarding eight weeks.
For Cuban Salsa Starter this runs on Sundays at 2.00pm on our Salsa Sunday (we run 6 hours of Cuban Salsa classes on Sunday – you will love being part of it!)
Energise your Winter and join in for eight weeks of fun and the feeling that only partner dance can bring.
You can find out more on our dedicated New Student web page.
Keen but not able to join right now? Sign up to our news to stay in the loop.
All our best,
Rio Rhythmics Team
Related posts